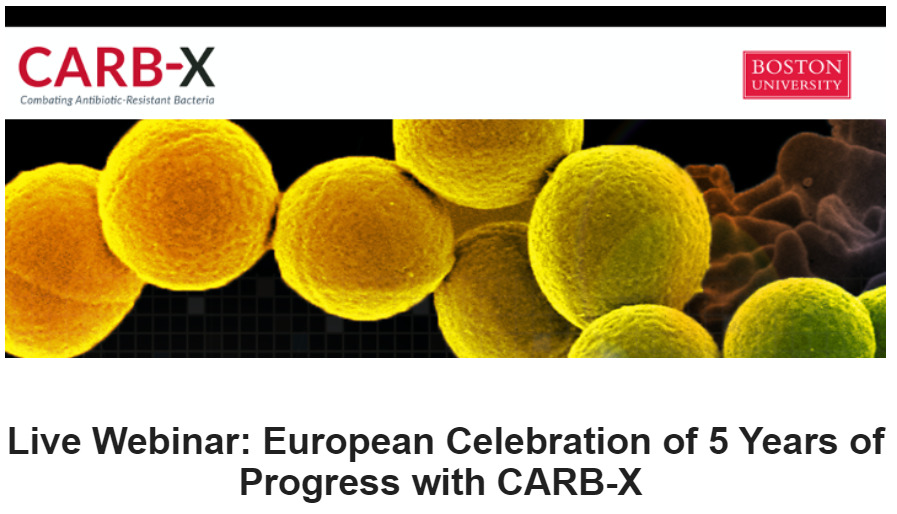 Please join on 22 October, 2021, at 3:30 PM CET/9:30 AM ET to discuss the critical role that CARB-X and its global partners play in driving the development of innovative products to address the antibiotic-resistant bacteria health crisis.
During this webinar, CARB-X Executive Director Kevin Outterson will highlight achievements, especially in Europe, and speak to CARB-X's future vision and strategy.
European-based funders of CARB-X will outline their objectives and strategy in preparedness and how CARB-X delivery over 2016-2021 has met some of these goals.
Several European product developers in the current CARB-X portfolio will speak about their innovative products and their experience working with CARB-X.
A panel of experts will discuss antibiotics as the safety net for modern medicine and the challenges of bringing innovative products to patients in Europe.
Dr. Otto Cars – Founding Director of ReAct, Senior Professor, Infectious Diseases, Uppsala University, and former member of UN Inter-Agency Coordination Group on AMR
 Sir Jeremy Farrar – Director of Wellcome Trust & Member of the One Health Global Leaders Group on AMR (invited)
Dr. Veronika von Messling – Director-General for Life Sciences at the German Federal Ministry of Education and Research
Florence Séjourné – Chief Executive Director of Da Volterra and President of BEAM Alliance
Registration link here